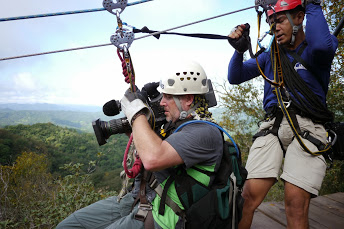 James is the co-founder of ArtGecko Productions, created in 1997. Raised in the News environment since the age of 18, he is fascinated with the lure of the human story. Considered by his peers as one of the top Photojournalists in the country he was honored as the Number 1 photographer in his region in 1990 by the National Press Photographers Association.
Jim still looks for the human element in every story he does for his Network News clients of ABC and FOX.
With 12 years of local news under his belt, 3 of them as Chief Photographer for KNXV-TV, the ABC affiliate in Phoenix, Arizona, Jim has set goals to take documentary producing to new levels of quality and entertainment.
Jim has traveled to Africa for A&E's The New Explorers for a documentary he co-produced and photographed with Bill Kurtis.
Disney flew him down to Ecuador to document the making of their latest children's Pop-Up book ABC Disney.
Applied Materials used Jim's skills in France to provide CD-Rom marketing materials to their Asian market.
He has traveled globally for Travel Channel's Xtreme Waterparks and Ride-iculous.
Jim's attention to detail has awarded him with 8 Emmy Awards, a Bronze Telly, 31 Emmy Nominations, 35 Arizona Press Club awards, an Iris Award, two New York Film Festival Awards, and the Edward R. Murrow award.